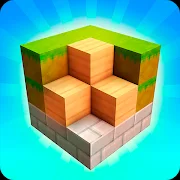 Block Craft 3D MOD APK - Unlimited Money
Updated on March 9, 2022
Your imagination is the only limit inside this mobile simulator. Create many structures and show off! Block Craft 3D MOD APK download latest version!
| | |
| --- | --- |
| App Name | Block Craft 3D |
| Version | 2.13.70 |
| Updated | March 9, 2022 |
| Compatibility | Android 5.0+ |
| File Size | 83.68 MB |
| Category | Arcade |
| Publisher | Fun Games For Free |
| Link | com.fungames.blockcraft |
| MOD Type | Unlimited Money |
About Block Craft 3D
Block Craft 3D is a fancy mobile game that gives the player the ability to create all kinds of buildings and structures in general. I can't start this review without letting the reader know about the popularity of this release. It seems more and more people love playing this sort of game on their Android mobile devices like smartphones and tablets. Since its launch day, this building simulator has achieved more than 100 million installs and a rating of 4.2 stars out of 5, based on 2+ million reviews on Google Play.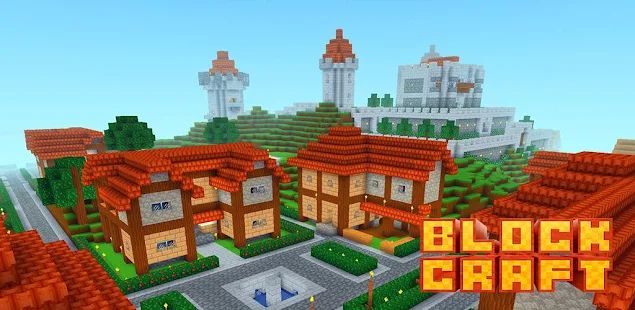 Graphics like in Minecraft
The pixelated graphics will surely remind players of Minecraft, the originator of this genre of games. When it comes to gameplay, there's no survival mode because everything focuses on building beautiful houses, monuments, and so on. Each individual that chooses to play this game receives a village. The only limit is the imagination of the player. If you have something in your head, you can use the various blocks to bring it to life.
Even a brand new player can figure out the game's mechanics without investing too much time. However, it takes plenty of patience to build impressive structures like the Eiffel Tower, castles, pyramids, etc. Each raw material is available by default. You don't have to go around and mine for it. Take advantage of endless amounts of wood, stone, metal, and other resources essential for building to construct a great village.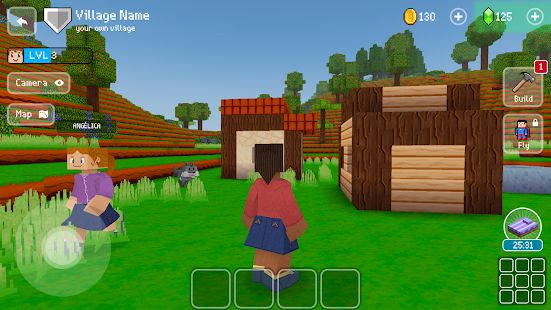 Create items and buildings
If you have played Minecraft's Creative Mode before Block Craft 3D, this game should be very familiar to you, especially when dealing with creating structures. Through the crafting system, you can create your very own furniture and make your house look very cozy. Plus, we can sell everything we build for gems. Another great thing about this simulator is the lack of monsters. Players can spend time establishing the foundation for homes instead of watching their backs all the time in case a mean creature wants to attack them.
Animals are also present here, but you can't breed them. The key is to use your imagination to design interesting-looking objects, and you can share them with other players found inside this mobile game. Besides, you can visit cities built by your friends and use them as inspiration for your creations.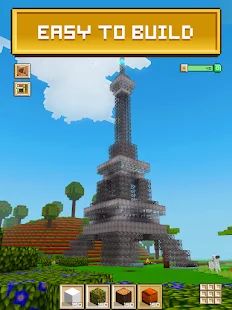 Bring backups
Through its multiplayer module, the player can give and receive help in terms of construction. Depending on how well your village looks, other people get to rank your whole establishment, but so do you. With regard to controls, all you have to do to move the character is to use the virtual stick present on the screen's left side. The GUI brings a slot system where we can place our primary building blocks for quick access. You can also switch the camera by picking between a first-person or a third-person view. Moreover, if you unlock the ability to fly from a dealer, you can explore cities way faster than walking around.
Download Block Craft 3D MOD APK for Android
Before you proceed to download Block Craft 3D with or without MOD, you should make sure your device is able to run it as intended. Make sure your Android version is at least Android 5.0+. The location of these download links will change from time to time, just as the APK versions, but we make sure they are safe and free to access. Press the button to download Block Craft 3D APK. We also offer the original, untouched files in case you don't want to use mods.