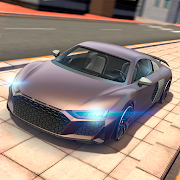 Extreme Car Driving Simulator MOD APK - Money, All Unlocked
Updated on March 9, 2022
A great driving environment since its launch in 2014. Accurate physics and realistic car damage. Download Extreme Car Driving Simulator MOD APK now!
| | |
| --- | --- |
| App Name | Extreme Car Driving Simulator |
| Version | 6.5.1 |
| Updated | March 9, 2022 |
| Compatibility | Android 4.4+ |
| File Size | 141.86 MB |
| Category | Racing |
| Publisher | AxesInMotion Racing |
| Link | com.aim.racing |
| MOD Type | Unlimited Money |
Extreme Car Driving Simulator - Review
Extreme Car Driving Simulator is a sim game where you can enjoy the experience of driving a car on your smartphone or tablet. Even though the Android market is rich in this type of game, this one manages to collect more than 100 million installs on the Play Store. If you're a speed demon and a car enthusiast, you should download and check out this release. The gameplay is pretty similar to other driving simulators, but you can still have a lot of fun each time you're behind the wheel of a sports car.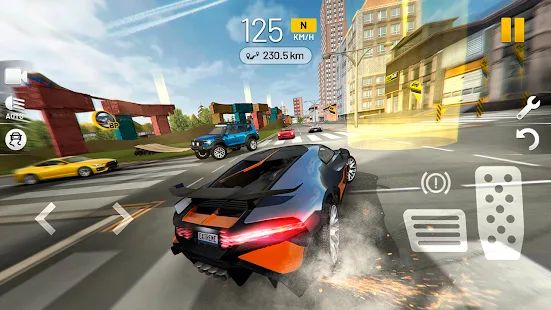 Unique experience
Titles like Asphalt require the player to drive as fast as possible to defeat the opponents, but that's not the case in this situation. The task is to show off your driving skills by doing all sorts of tricks like controlled drifts, for example. Try to reach a pretty high speed and then hit the brakes to initiate the drifting motion because the game rewards you with money. The more you slide, the better.
You can perform all sorts of tricks on the road, but how about the other vehicles involved in traffic and pedestrians? This environment contains cars, but you don't have to worry about people walking around. The difference between this game and others is that here you won't face rivals or cops. You can freely race around the map while performing all kinds of stunts. Plus, you can taste the action by playing two game modes. The first one is called Points mode, and here you are required to reach the green lines as fast as possible. The last one has you driving through the city while facing other cars involved in traffic. Do your best to avoid crashing!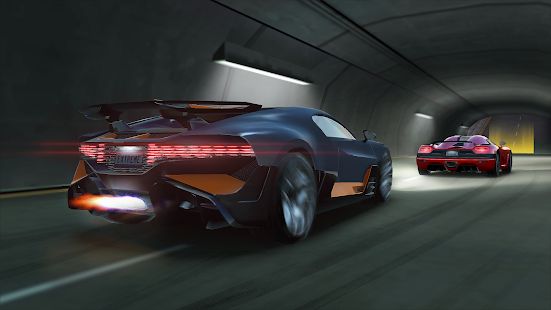 Check out the cool cars!
This game might not have the number of vehicles that other driving games have, but it still brings some supercars made by Ferrari, Lamborghini, Ford, etc. An aspect like this one is subject to change because the developer keeps updating their game with new versions. In the future, you might find more cars and modes to play, who knows!
When it comes to controls, the interface provides two directional buttons on the left side of your device's screen so you can move the car left and right. The acceleration and brake pedals are available on the right side. Also, other commands exist inside this area. Besides, to steer the car, you can either use the arrows shown at the left side of the touchscreen, the accelerometer, or the wheel.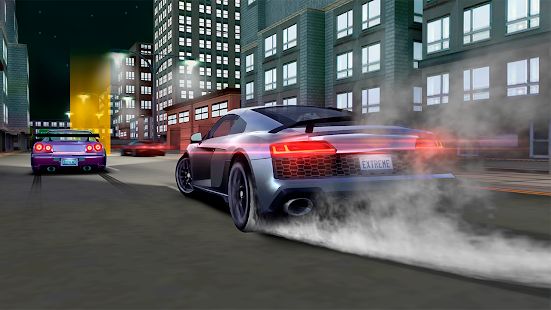 Configure the controls as you see fit
If you're interested in getting a genuine feel of the vehicle, the game lets you turn off the ABS, TC, and ESP systems. Needless to say, if these features are no longer active, the mission of handling the car is a bit more challenging. My recommendation is to take advantage of them as long as you're a newbie in terms of driving fast cars. Once you gather enough experience, you can try the game without these systems assisting you. The HUD shows information such as speed, current gear, and engine revs.
Download Extreme Car Driving Simulator MOD APK for Android
Before you proceed to download Extreme Car Driving Simulator with or without MOD, you should make sure your device is able to run it as intended. Make sure your Android version is at least Android 4.4+. The location of these download links will change from time to time, just as the APK versions, but we make sure they are safe and free to access. Press the button to download Extreme Car Driving Simulator APK. We also offer the original, untouched files in case you don't want to use mods.