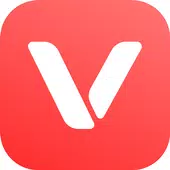 VMate APK
Updated on April 11, 2022
Record videos, add various effects and filters, and share them with the world! Plus, you can download videos from social media. Download VMate APK.
| | |
| --- | --- |
| App Name | VMate |
| Version | 2.71 |
| Updated | April 11, 2022 |
| Compatibility | Android 4.1+ |
| File Size | 38.35 MB |
| Category | Video Players & Editors |
| Publisher | VMate App Team |
| Link | - |
| MOD Type | No MOD available |
Introducing VMate
VMate is a form of a social network where users can share videos with other people registered there. It's a good way of connecting with individuals that have the same interests as you. Social platforms are popular because more and more people have easy access to the Internet. Once services like Myspace, Facebook gained traction, it's no surprise to see many other alternatives popping up overnight. However, I can't say that this app is just like a traditional social network because it's not. It offers many other features, including the ability to download videos, create new videos, etc.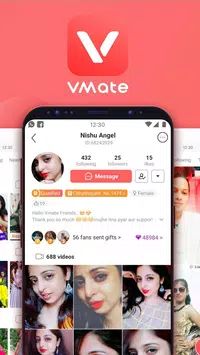 Active user-base and nice UI
At the moment, VMate is a decent solution if the user is looking after a video creator with some attributes seen on a social media platform. It also has gathered more than 100 million installs since its launch day on the Google Play Store. In terms of layout design, you'll be pleased to know that the interface provides a good experience. Being an application centered around sharing videos, you can take advantage of features like video editing, for example.
Record videos and edit them quickly
You can easily record short clips using the camera of your smartphone or tablet. Perform regular actions like cutting, merging, rotating, and more using the functions available inside the window. Apply different filters and effects to make a video look fancier and polished. Plus, we can add music to our projects by going inside the library, where songs from all over the world are available at our fingertips. Plus, we can create collages containing multiple images and share the result with people you like.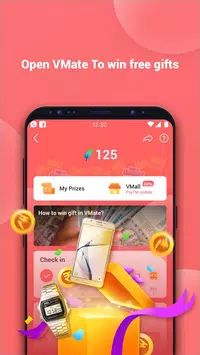 Save content from other platforms
Another essential task handled by VMate is video downloading. Obtaining content from other social media networks like Facebook, for example, is not a challenging process to complete. First, you'll have to find the target video and then use the download function to save it on your device. Besides, VMate also optimizes the output file to reduce its size. Save space to store more videos. The user interface gives us access to the Search function, which we can take advantage of to find desirable content in a matter of seconds.
Everything is accessible with ease
As soon as the video reaches your smartphone's storage, the next step is to use the built-in media player to run that file and enjoy it. We don't have to install additional applications to do all these tasks. Because we can store media content inside our mobile devices, we can watch them later without staying connected to the Internet. Check out the history section to see which and how many videos this app downloaded for you.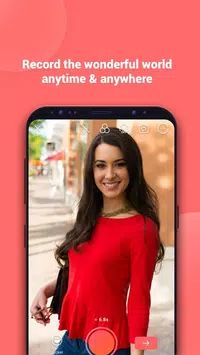 It learns from what you enjoy
When it comes to discovering fresh and entertaining clips, the application tracks your viewing habits to expand its knowledge concerning your preferences. Once enough data is collected, the Feed section contains videos you might like. Overall, VMate is the app that does lots of things for you. Capture a new video, apply various filters and effects, share it with others, discover entertaining clips, download videos, etc. Engage with people and gather their feedback.
Download VMate APK for Android
Before you proceed to download VMate with or without MOD, you should make sure your device is able to run it as intended. Make sure your Android version is at least Android 4.1+. The location of these download links will change from time to time, just as the APK versions, but we make sure they are safe and free to access. Press the button to download VMate APK. We also offer the original, untouched files in case you don't want to use mods.