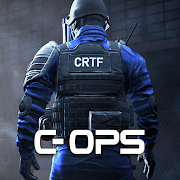 Critical Ops MOD APK - Unlimited Money, Menu
Updated on April 1, 2022
A straightforward FPS game that comes with a great feeling. Three game modes, various weapons, private matches, and more. Download Critical Ops MOD APK.
| | |
| --- | --- |
| App Name | Critical Ops |
| Version | 1.22.0.f1268 |
| Updated | April 1, 2022 |
| Compatibility | Android 5.0+ |
| File Size | 36.46 MB + 529 MB (OBB) |
| Category | Action |
| Publisher | Critical Force Ltd. |
| Link | com.criticalforceentertainment.criticalops |
| MOD Type | Unlimited Money, Menu |
About Critical Ops
Critical Ops is a free 3D multiplayer first-person shooter which has two teams fighting against each other. Even though it's not the only successful release in this genre, this game manages to gather a healthy player base. At the moment, more than 50 million Android users have downloaded and installed this mobile game on their smartphones and tablets, according to Google.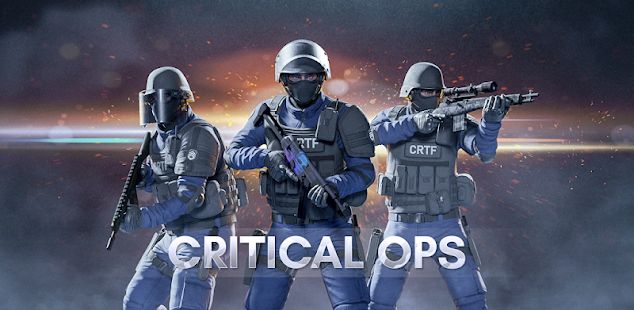 Many modes to enjoy
Probably the main advantage of the gameplay are the different maps and game modes you can enjoy. If you like the classic experience of two teams going at it over the number of kills, you should check out the Team Deathmatch mode. Here, terrorists and anti-terrorists can play timed matches where the ones with the higher score get to win the battle. There's a bomb plant and defuse mode as well. One team can plant the bomb at one of the bomb sites, and the other team must defuse the explosive before the time runs out.
Another fun mode is the Gun Game, where players go through all the weapons available inside the game. Each time you get a kill, the game gives you a different gun, and you have to get a kill with that one as well. This rule applies to all the players involved in the round. The one to complete the entire gun run is the winner of the match. Listen, these modes are well-known among FPS lovers. You can find them even on games released for consoles and computers.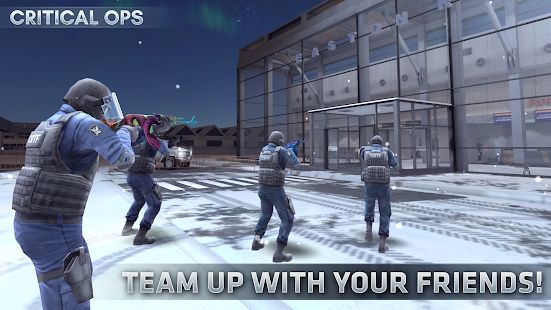 Pick your favorite weapon and fight!
Concerning weaponry, Critical Ops brings a diverse weapon system that includes your regular pistols, shotguns, sub-machine guns, assault rifles, grenades, and even sniper rifles. Shotguns are very deadly weapons from close range, but you can barely do any damage if your enemy is far away from you. You should always pick your load-out depending on the map and your style of play.
The controls work like in other FPS games out there: with the virtual joystick present on the screen, you can control the character's movement. Some additional buttons are shown for reloading, shooting, ducking, and jumping. The more you play, the better because you can unlock new skins depending on your performance. In case you're a very competitive individual, this game provides a section for ranked matches. The game mode used here is the Defuse the Bomb.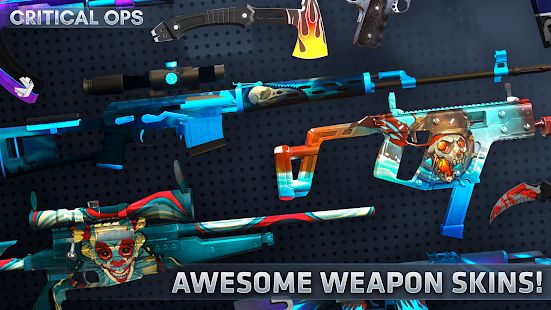 Take charge and play as you desire
Another great feature of Critical Ops is the ability to set up your very own custom games. You can configure the mode as you see fit, add a password for private rooms, and invite your friends to a challenging battle. Now let's chat a bit about graphics. The visuals are not so great, but don't let this aspect take anything away from the game because it's not a big drawback. As long as you, the player, get immersed in the action, everything is fine. Plus, you can spend real money on in-game items that are purely cosmetic.
Download Critical Ops MOD APK for Android
Before you proceed to download Critical Ops with or without MOD, you should make sure your device is able to run it as intended. Make sure your Android version is at least Android 5.0+. The location of these download links will change from time to time, just as the APK versions, but we make sure they are safe and free to access. Press the button to download Critical Ops APK. We also offer the original, untouched files in case you don't want to use mods.