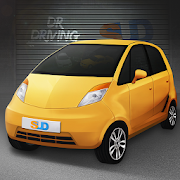 Dr. Driving 2 MOD APK - Unlimited Money
Updated on April 11, 2022
Play various game modes in this driving title. Collect money and use them to upgrade and unlock new vehicles. Download Dr. Driving 2 MOD APK.
| | |
| --- | --- |
| App Name | Dr. Driving 2 |
| Version | 1.52 |
| Updated | April 11, 2022 |
| Compatibility | Android 4.1+ |
| File Size | 22.55 MB |
| Category | Racing |
| Publisher | SUD Inc. |
| Link | com.ansangha.drjb |
| MOD Type | Unlimited Money, Cars Unlocked |
Introducing Dr. Driving 2
Dr. Driving 2 is the second release of the already well-known driving game available for Android mobile devices. Unlike other racing games out there, this one requires the player to drive regular cars safely around the city. Take your time, don't drive like a maniac, protect the vehicle and the other traffic participants to succeed. Considering the success achieved by the first game in this franchise, the developers decided to release a follow-up version. This package has gathered more than 50 million installs, according to the Play Store.
The whole point is to complete various challenges to unlock more vehicles. If you love speed and adventure, this game is 100% something you should have on your smartphone. And remember one thing: don't drive like in GTA games because crashing is not a great thing to do. Attention is required to avoid crashing into other vehicles on the road and obstacles that might get in your way.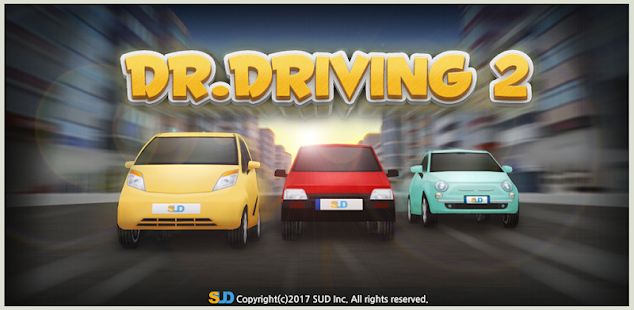 Pass levels to advance
Just like in the original release, this one provides a good amount of missions to complete. Concerning controls, you can move your car around the city using the same system. On the left side of the touchscreen, you will find pedals for acceleration and braking. The vehicle can be moved to the right or left using the virtual steering wheel displayed towards the right side of the screen. Between these controls, you will also notice gauges for RPM and speed. While driving, you must keep an eye out for traffic signs and respect those rules.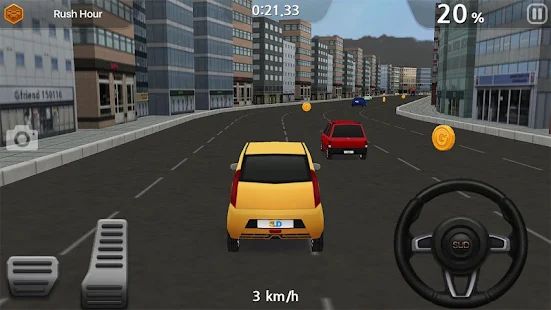 Spend earnings to better rides
Each time you complete one mission, the game rewards you with an amount of money. Plus, players can also collect gold coins and perform technical actions to boost their earnings. You can use it to improve your current car or to buy a new better one. In case we damage the ride while driving on the road, we can repair it later for a fee. Besides being able to purchase new vehicles, the game also allows us to upgrade them. This process is not that straightforward as you might think it is because we'll have to craft the necessary components to improve the car.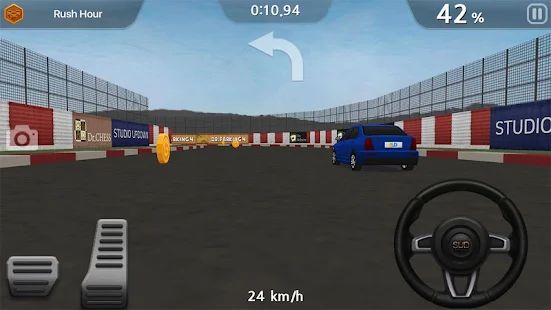 Check out various modes
Dr. Driving 2 brings a total number of six game modes, such as Career, Top Racer, Car Lab, Taxi, and two others, known as Championship and Tournament, where we can compete against other players. The missions mentioned above in this article are a part of the Career Mode, and there's no reason for me to cover it anymore. When we reach the third level in the game, we can play the Top Racer Mode and have fun while taking perfect corners in our favorite available car.
If you're the type of player who curious about taxi life, please check out the Taxi Mode. Here, we can pick up passengers and drop them at specific locations. Always stop the car at the right destination to not mess things up.
Download Dr. Driving 2 MOD APK for Android
Before you proceed to download Dr. Driving 2 with or without MOD, you should make sure your device is able to run it as intended. Make sure your Android version is at least Android 4.1+. The location of these download links will change from time to time, just as the APK versions, but we make sure they are safe and free to access. Press the button to download Dr. Driving 2 APK. We also offer the original, untouched files in case you don't want to use mods.