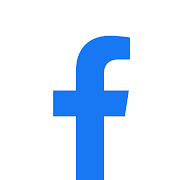 Facebook Lite APK
Updated on March 9, 2022
This lite version is here to help users with lower-spec devices use Facebook. Download Facebook Lite APK to chat with your friends and family members!
| | |
| --- | --- |
| App Name | Facebook Lite |
| Version | 293.0.0.4.114 |
| Updated | March 9, 2022 |
| Compatibility | Android 8.0+ |
| File Size | 1.69 MB |
| Category | Social |
| Publisher | Meta Platforms, Inc. |
| Link | com.facebook.lite |
| MOD Type | No MOD available |
Introducing Facebook Lite
Facebook Lite is an application that lets its users connect and manage their Facebook accounts. This app comes in a lighter format, making it suitable for devices running on low power and weaker hardware configurations. Since not all Android users have flagship models made by Samsung, LG, Huawei, HTC, this version is something the market needs. It seems many people have the same mindset as I do because this release has gathered more than 1 billion installs since its launch day. These numbers are available on the Google Play platform, so everyone can check them out by visiting that page. However, some users are unhappy about the limited features it offers.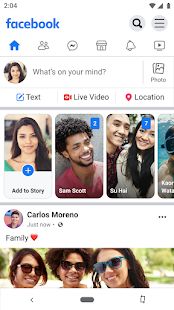 System requirements
At the moment, this package works perfectly for devices having less than 2GB of RAM. Don't get me wrong. You can also install it on your flagship if you want to be resourceful. After we finish the installation process of Facebook Lite, we will have to provide the correct credentials for our account on this popular social media platform.
Check out your profile
The user can decide which content he wants to share. You can share data such as profile information, photos, videos, and even interests. After you log in, you will notice that the first page, called the Home page, displays the News Feed. This section contains a list of posts made by your friends and other sources relevant to you. The messaging system allows users to keep in touch with friends and family by sending photos, videos, attachments, text messages, and more. Each time someone leaves a comment or a like on your page, the app sends you a notification to let you know about what happened. If someone spams you with annoying messages, you have the option to block that person.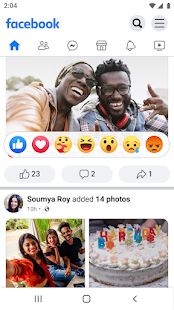 Play games and install apps
Another captivating section of the Facebook Lite app is the apps and games section. Third-party developers are the reason why this platform has many games. Check out the privacy settings for apps and games installed on your device to ensure there's nothing wrong going on there. As long as the user is not bothered by the lack of certain features and functionalities, this version is a must-have for people who don't own expensive smartphones. You can share personal photos with others by creating a private photo album.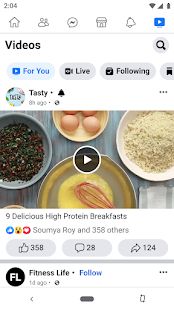 Visit places and leave feedback
You want to find a place to shop or dine tonight? With Fb Lite, you can discover plenty of businesses located in your area. You can even obtain extra information such as operation hours, pictures, reviews provided by other people, and more. Plus, this application allows users to buy and sell items and services through its marketplace section. Use everything it offers to chat with your favorite people, share photos and videos with them, and manage your page. In conclusion, Facebook Lite is the best alternative that you can use to access and manage your profile on this social platform, especially on lower-spec Android mobile devices and 2G network conditions.
Download Facebook Lite APK for Android
Before you proceed to download Facebook Lite with or without MOD, you should make sure your device is able to run it as intended. Make sure your Android version is at least Android 8.0+. The location of these download links will change from time to time, just as the APK versions, but we make sure they are safe and free to access. Press the button to download Facebook Lite APK. We also offer the original, untouched files in case you don't want to use mods.