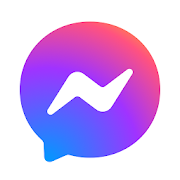 Facebook Messenger APK
Updated on March 9, 2022
Talk to family members, friends, coworkers, and more with the Facebook Messenger APK. Download this app to save time and money. Simple to use.
| | |
| --- | --- |
| App Name | Facebook Messenger |
| Version | 351.0.0.0.103 |
| Updated | March 9, 2022 |
| Compatibility | Android 9.0+ |
| File Size | 49.64 MB |
| Category | Communication |
| Publisher | Meta Platforms, Inc. |
| Link | com.facebook.orca |
| MOD Type | No MOD available |
Facebook Messenger - The Introduction
Facebook Messenger is an Android application that lets you keep in touch and communicate with your friends on a well-known social network. It has the advantage of connecting with your friends from Instagram right from this app's interface by simply searching their names. This feature is possible because Facebook is the company that owns Instagram as well. Just as with other similar services, you have to provide the Facebook credentials for your account to use this software.
Users can send and receive messages, share locations, initiate file transfers, and more. It even has support for group chats, and you can customize things like nicknames and group photos. These functionalities are a big part of the app's success because this package has gathered over 5 billion installs. Besides regular text messages, we can also take advantage of the video chat module to stay in touch with people. Plus, this feature is available for group chats as well.
And since we are talking about this topic, allow me to mention some details about group conversations. First of all, the user can invite anyone by sending a link. Even though a person might not have Messenger installed on the device, that individual can still join the chat as long as he uses the invitation link. At the moment, we can host up to 50 people with no time limit regarding session length. Video and call chats are completely free as long as these take place through the internet connection.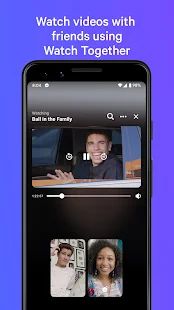 Record short clips and play games
Users can take videos and photos and customize them by applying a variety of fun and artistic effects. Another interesting function is the opportunity to play games. The more I think about it, the more I realize how essential this functionality is. It takes only a few searches to find an enticing mobile game to enjoy in your spare time. However, lately, users complain about the large number of messages someone receives if he's an Android regular gamer. It will take a while to get rid of all the requests present in your inbox.
Interface, Emojis, and Settings
When it comes to layout design, the user interface is as straightforward as possible. We can navigate through multiple sections without struggle, use the search feature to look through conversations, find people, query the app for interesting content to consume, and more. If you like customizing the chatting experience, please apply one of the included themes to change the background in the window. It's not something crazy, but it does the job without spoiling the browsing experience.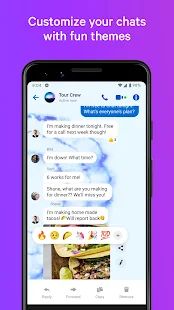 Insert funny emojis to better express yourself. Plenty of choices are existent concerning this aspect. Inside the Settings window, you can configure the application to enable or disable notifications, use sounds, synchronize contacts, and more. The more popular instant messaging services become, the more people are worried about their privacy.
Please check out the privacy settings area to adjust any parameter you're currently not happy with at all. It's better to take care of this issue now and not later. If someone annoys your presence on this platform, you can use these small functions to avoid interacting with that user.
Download Facebook Messenger APK for Android
Before you proceed to download Facebook Messenger with or without MOD, you should make sure your device is able to run it as intended. Make sure your Android version is at least Android 9.0+. The location of these download links will change from time to time, just as the APK versions, but we make sure they are safe and free to access. Press the button to download Facebook Messenger APK. We also offer the original, untouched files in case you don't want to use mods.