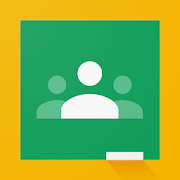 Google Classroom APK
Updated on April 10, 2022
Take advantage of its features to interact with your students. Create classes, establish assignments, and more! Download Google Classroom APK now!
| | |
| --- | --- |
| App Name | Google Classroom |
| Version | 8.0.061.20.90.0 |
| Updated | April 10, 2022 |
| Compatibility | Android 5.0+ |
| File Size | 45.09 MB |
| Category | Education |
| Publisher | Google LLC |
| Link | com.google.android.apps.classroom |
| MOD Type | No MOD available |
Introduction of Google Classroom
Google Classroom is a free application developed and released by the tech giant to make it easier for teachers and students to connect. In simple terms, this software is here to simplify the distribution of material and assignments. It saves time compared to the traditional method. With the pandemic, apps like this one gain more and more popularity by the day because people need to find a different way to interact and continue their studies without interruption. It manages to integrate a collection of other tools inside one package, including Google Sheets, Slides, Calendar, Documents, and Gmail. Thanks to this simplified platform, we can now learn easier as students or teach easier as instructors.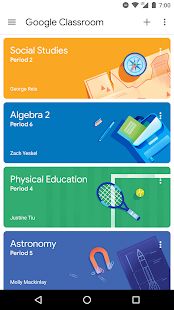 Tons of downloads
According to Google Play, this release has collected over 100 million installs so far. However, it doesn't have an impressive rating. Based on 1.6 million votes, the app averages a score of 3.7 out of 5 stars. Reading the feedback posted by those who tried the app itself, we can notice that many are unhappy about its behavior. It's up to each individual to download and install the APK to check each feature and make an informed opinion.
Manage students and classes easier
First of all, this software is available to anyone having a free personal Google account. If you currently don't have one, hard to imagine, go through the registration process to get everything ready to work. Inside this software, you can create multiple classes, stay organized, communicate, and so on. As with the rest of the applications made by Google, this one rocks a friendly and simple-to-use interface. Teachers can add students to classrooms just by giving them a code. Everyone that has the secret code can join the class.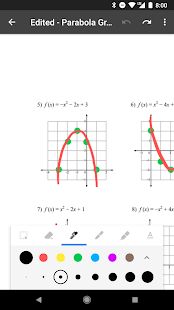 One of the primary purposes behind this application is to provide a better organization, allowing each student to see assignments on an assignments page. If you are a student, you can also see class materials like photos, documents, videos, and more, inside your Google Drive. This aspect leads to a paperless workflow, and everything saves time.
Additional features
In terms of communication, users registered as teachers can send notifications regarding class discussions. During this stream, students are allowed to share resources and provide answers. Since it takes time and money to print and reprint paperwork such as calendars, tests, worksheets, assignments, reports, and more in the old-school fashion, you can get Google Classroom and manage your class and students through your mobile device. Save money and time by no longer having to print insane amounts of paper. Plus, it's harder for students to lose the material because it's in a digital format now.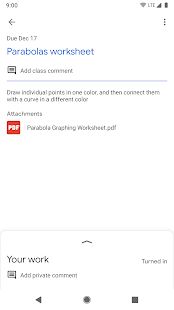 Integration with Drive
Each class we create in this app gets a separate folder inside Google Drive for easy tracking and management. Here, students can submit their homework and tests to allow the teacher to check them out and offer a grade. When it comes to security, this platform provides its services without forcing the user to watch advertisements. Your data or student's data is not subject to advertising purposes. Plus, you can adjust various security settings to maintain accounts secure and protect student privacy.
Download Google Classroom APK for Android
Before you proceed to download Google Classroom with or without MOD, you should make sure your device is able to run it as intended. Make sure your Android version is at least Android 5.0+. The location of these download links will change from time to time, just as the APK versions, but we make sure they are safe and free to access. Press the button to download Google Classroom APK. We also offer the original, untouched files in case you don't want to use mods.