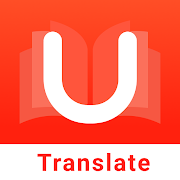 U-Dictionary MOD APK - VIP Unlocked
Updated on March 18, 2022
One of the most authentic English dictionary available on the market. Translate text into many languages with ease! Download U-Dictionary MOD APK.
| | |
| --- | --- |
| App Name | U-Dictionary |
| Version | 5.0.34 |
| Updated | March 18, 2022 |
| Compatibility | Android 5.0+ |
| File Size | 32.67 MB |
| Category | Education |
| Publisher | Talent Education Inc |
| Link | com.youdao.hindict |
| MOD Type | VIP Unlocked |
Introducing U-Dictionary
U-Dictionary is a free application available for Android mobile devices where users can translate text into multiple languages. Have you ever thought about what happens if you don't have an internet connection to use online translator services like Google Translate? That's the moment when we need an offline dictionary on our smartphone, or we won't be able to understand foreign words. This app is essential for those traveling the world because it gives quick access to word translation. To let you know how popular this tool is, allow me to mention some of its statistics available on the Play Store. Since its launch day, this release has collected over 100 million installs. As everybody can see, many consider this app quite helpful.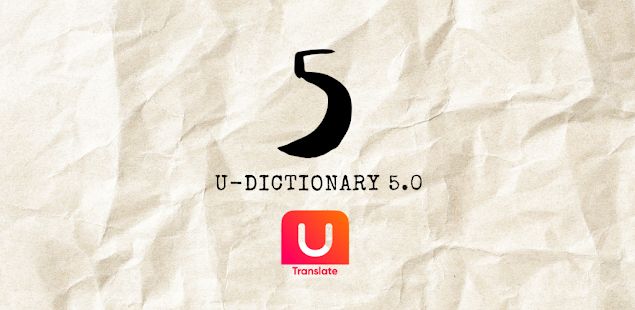 Simple GUI
Its user interface comes with a straightforward layout in which we can type a word and see its meaning. Plus, the Camera Translation feature lets you take a photo and then translate the text from it using OCR technology. This component works in such a way to detect letters and whole words found inside a picture. However, make sure the camera of the device is decent and clean enough to capture clear photos. It's difficult for this function to work fine if the view is blurred or obstructed by objects. Right now, this component works with 93 languages. Through multiple updates, it went from supporting 12 to over 90, as you can see.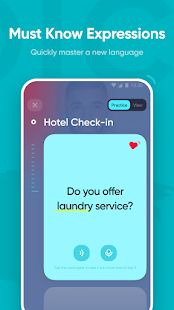 Get more languages!
The Dictionary allows users to download offline packages for 44 languages, and you can use the application later without having to be connected to the Internet. Another handy feature is the Copy to Translate. This small function makes your life easier each time you run into unknown words while browsing the World Wide Web, for example. You can easily copy words and paste them inside this application to receive definitions. Just like other similar apps out there, U-Dictionary has support for saving critical terms into different folders. Each day you can expand your vocabulary just by learning the words recommended inside the app.
Learn through games
A couple of games are available inside the interface, having the purpose of improving your spelling abilities. Take things up a notch by learning how to pronounce English words to perfection by listening and repeating Authentic UK (British) and US (American) accents. Keep practicing to improve yourself.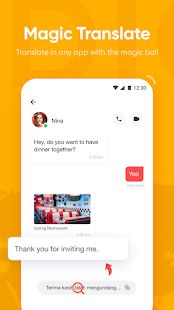 The interface provides all the essential features we need to learn day after day. Not all translation services perform grammar checkings, but this tool does. It's better to have your writings corrected before it's too late. At the moment, this functionality works only with text written in the English language. There are so many cases in which we can use this application and its modules to assist us during translation. Use it to read news, chat with people from different nations, translate text during exotic vacations, and more. Since the Oxford dictionary is amongst the prestigious ones, U-Dictionary allows us to check them in 12 languages.
Download U-Dictionary MOD APK for Android
Before you proceed to download U-Dictionary with or without MOD, you should make sure your device is able to run it as intended. Make sure your Android version is at least Android 5.0+. The location of these download links will change from time to time, just as the APK versions, but we make sure they are safe and free to access. Press the button to download U-Dictionary APK. We also offer the original, untouched files in case you don't want to use mods.