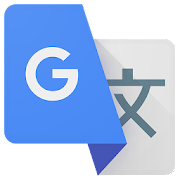 Google Translate APK
Updated on April 11, 2022
Check out Google's official app for translating text, photos, and voice on Android. Works with many languages. Download Google Translate APK.
| | |
| --- | --- |
| App Name | Google Translate |
| Version | 6.33.0.437138465.3-release |
| Updated | April 11, 2022 |
| Compatibility | Android 6.0+ |
| File Size | 31.59 MB |
| Category | Tools |
| Publisher | Google LLC |
| Link | com.google.android.apps.translate |
| MOD Type | No MOD available |
About Google Translate
Google Translate is the official Android app for the well-known translation service provided by the tech giant Google. This software is a recommended tool for translating random text, words, phrases from one language to another. Thanks to its support for tens of languages, we can use this application for various situations without failure. It comes with tons of features we can take advantage of the make the whole translation process easier and quicker. These features include support for offline translation, input by handwriting, synchronizing across different devices, and more. Because this application provides so much, it reached new levels of popularity.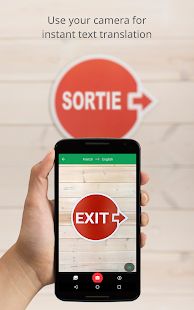 Number one tool concerning translation
According to Google Play, this package has collected over 1 billion downloads and installs since it was published there. With all honesty, this translation platform was already well-known before the Android app became available for the audience to use. If you're out there looking for a proper translation tool, you can't overlook Google Translate.
This software comes with a simplistic user interface layout, and you shouldn't have difficulties using this app. Just like the browser-based service, this app can translate between 108 languages by typing. We can also copy the text in any other application and tap the Google Translate button to translate to a different language as fast as possible.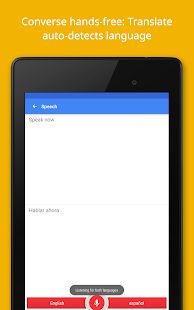 It even works with whole websites
Are you interested in the translation of whole web pages? Do you visit foreign websites often, but you can't understand the writing? With this application, we can remove lingual blockages by providing the page's link and translate the entire text into a language we know. As soon as we hit the button, the app will serve us the translated webpage, allowing us to read it that way. Another cool thing about Google Translate is the possibility of using it in offline mode if you don't have an Internet connection. However, we can use this neat feature to work with up to 59 languages without access to the Internet.
Support for 94 languages and OCR
One of its best features is the support for camera translation, where the application instantly translates text in 94 languages. It came a long way since its inception. At first, the instant camera translation component worked only with ~ 30 languages. It works by allowing us to capture photos of text with the phone's built-in camera, recognizing letters and words through its use of OCR technology, short for Optical character recognition, and serving the translated text once it's ready.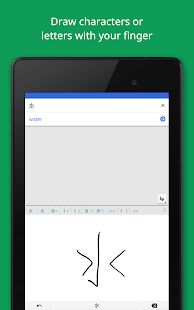 Great speech translation component
In addition, Google Translate even has a Conversation Mode where the app performs instant speech translation in 70 languages. As you can probably expect, this function takes advantage of the device's microphone. Please pronounce words as accurately as possible to allow the app to identify them quicker and with better accuracy. The Phrasebook is a separate section of Google Translate, where we can save translations for future use and reference. To add pieces of text to this list is as simple as tapping the star button after you translate something. Concerning configuration, this app lets you clear the translated history, block offensive words, select dialects, and more.
Download Google Translate APK for Android
Before you proceed to download Google Translate with or without MOD, you should make sure your device is able to run it as intended. Make sure your Android version is at least Android 6.0+. The location of these download links will change from time to time, just as the APK versions, but we make sure they are safe and free to access. Press the button to download Google Translate APK. We also offer the original, untouched files in case you don't want to use mods.