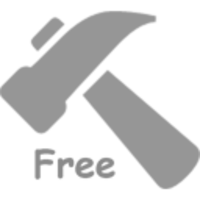 Hack App Data APK
Updated on April 11, 2022
Customize system and user APK packages with this tool. Unlock hidden features, adjust system permissions, and more. Download Hack App Data APK.
| | |
| --- | --- |
| App Name | Hack App Data |
| Version | 1.9.12 |
| Updated | April 11, 2022 |
| Compatibility | Android 4.0+ |
| File Size | 6.39 MB |
| Category | Tools |
| Publisher | SteelWorks |
| Link | - |
| MOD Type | No MOD available |
Review of Hack App Data
Hack App Data is a free Android application that handles the job of modifying an application's data. Why you choose to do this is entirely up to you. Many people take advantage of tools like this to enable hidden features, customize permissions, and more. This aspect is the reason why this package has gathered tens of millions of installs throughout time. If you feel like an app or a game demands way too many permissions, you can use Hack App Data to change everything you don't like.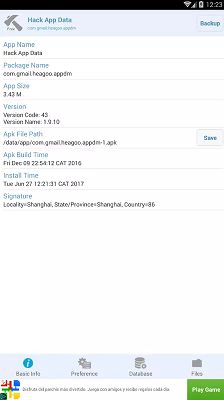 Learn about the tool before using it!
It's easier to use this software if you have some previous experience. As a newbie, you'll have to learn a few things to ensure you're not messing up everything. Once you launch this tool, the first thing to notice is the friendly user interface, where you can list the user apps or system apps. Some of these packages listed here were installed by yourself or by the system itself. For example, the default messaging app on your smartphone is a system application, while a game like PUBG is a user package.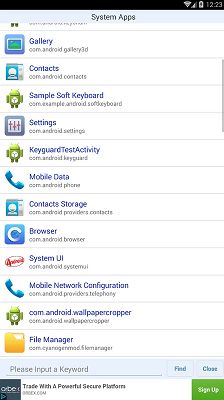 Some system requirements
For you to modify any of these apps, you need root privileges. If your smartphone doesn't have root privileges at the moment, Hack App Data only lets you view details about your selected app. Inside the User Apps section, we can see a list of packages that aren't that important and usually were installed there by you. In this list, you will find video games and other 3rd party apps. The critical applications are available inside the system apps category, and you must be careful while editing stuff here. Small changes in sensitive places can cause trouble for the Android ecosystem. Read some online documentation before you go around changing packages here.
The actual process is simple
To modify an app, start by selecting it, and if your device is already rooted, you can change database information and other types of data. Databases contain tables, rows, and columns, and many apps store information here. You can also change the settings of an app inside Preferences.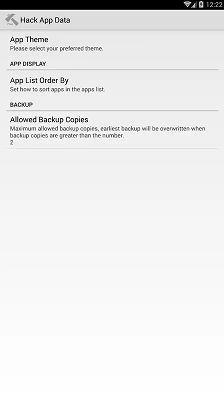 Inside the main screen, we will find a Help button that contains information about what Hack App Data does and another section named Backup List, where we can do backups of our apps and restore them later. I appreciate this feature a lot because it allows us to have a decent fallback if something goes wrong. However, always pay attention each time you're about to modify crucial packages for the Android OS. Also, make sure you allow Hack App Data to access the phone's storage, including installed apps and games because it requires these permissions to work as advertised.
Unlock apps and games
Overall, this tool provides the modules we need to customize APK packages, activate hidden features, unlock more potential, and change parameters we don't like.
Download Hack App Data APK for Android
Before you proceed to download Hack App Data with or without MOD, you should make sure your device is able to run it as intended. Make sure your Android version is at least Android 4.0+. The location of these download links will change from time to time, just as the APK versions, but we make sure they are safe and free to access. Press the button to download Hack App Data APK. We also offer the original, untouched files in case you don't want to use mods.