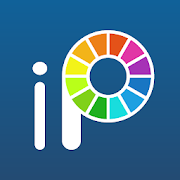 ibis Paint X MOD APK - Premium Unlocked
Updated on March 9, 2022
Test your painting skills with this app! Gain access to countless brushes, insert text, work with multiple layers, etc. Download ibis Paint X MOD APK.
| | |
| --- | --- |
| App Name | ibis Paint X |
| Version | 9.3.0 |
| Updated | March 9, 2022 |
| Compatibility | Android 4.4+ |
| File Size | 48.98 MB |
| Category | Art & Design |
| Publisher | ibis inc. |
| Link | jp.ne.ibis.ibispaintx.app |
| MOD Type | Premium Unlocked, Pro |
Review of ibis Paint X
ibis Paint X is a handy application available for Android mobile devices, allowing us to express our artistic side by creating drawings and sketches. Use this software and what it has to offer to create designs inspired by anime and manga. However, the user has plenty of liberty to choose what he wants to draw. Even if you're not into drawing, you can still take advantage of this app to manipulate photos. Work with multiple layers, brushes, color palettes, etc.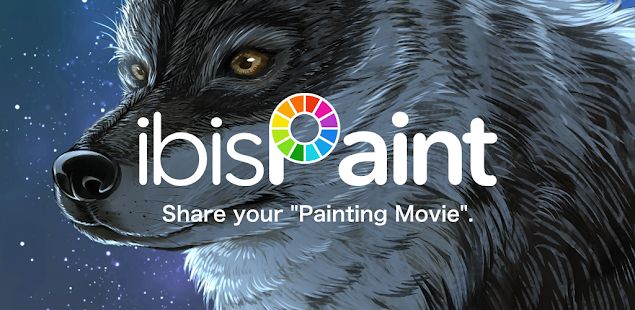 According to numbers existent on the Play Store, this package has achieved over 100 million installs so far. The development team behind this app claims their project saw more than 150 million downloads in total. To figure out if a product is good enough for you, always read the opinions of others. Concerning ibis Paint X, it averages a rating of 4.6 out of 5 stars.
Use the intuitive UI to edit pictures
It's entirely up to each individual to pull off great drawings because the application provides a wide array of tools designed to help people create some fancy visual projects. A big plus for this software is the friendly user interface. The window contains as a dominant section the canvas area, while the tools are available inside a separate bar. Take a look there to ensure everything you need is already present before the drawing process starts. At the moment, we have access to 1000 types of brushes, such as charcoal brushes, digital pens, crayons, dip pens, oil brushes, pencils, and more. Plus, we can adjust parameters like thickness, opacity, and brush angle to nail every design. Use the bar on each slider to configure these aspects as you see fit.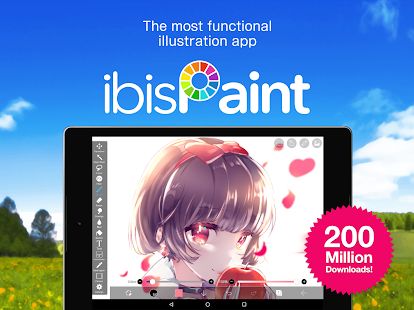 Also, since this photo editor allows us to see a real-time preview of each brush, we can save time using the one suited for our project. Besides all these different brushes, the interface provides multiple blending modes, filters, materials, etc. The drawing experience is impressive due to the app's implementation of OpenGL technology. Create your sketches and designs at up to 60 fps.
Many text fonts available
Do you want to insert text inside your project? Don't worry, ibis Paint X has your back by providing over 700 different fonts. In case you're doing some precision sketches, you can take advantage of the incorporated rulers. The cool thing about working with layers is that you can use as many of them as you need. Just like you can with brushes, your layers can have their opacity, blending, and other aspects defined by you. Don't forget to take advantage of layer duplication, horizontal inversion, vertical inversion, layer rotation, import from the photo library, and more to take your designs to the next level.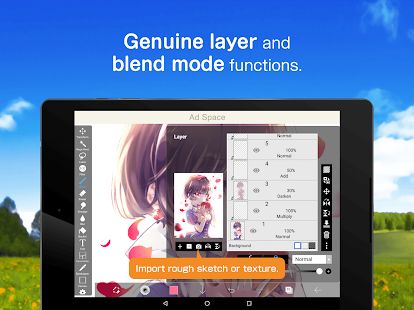 Capture the whole process
Besides, ibis Paint X has a component that allows users to record their drawing process and save it as a video file. This feature is neat because we can learn to draw from video tutorials. There's always some new drawing technique to explore as an artist. This application offers more functions for those willing to go for the pro version.
Download ibis Paint X MOD APK for Android
Before you proceed to download ibis Paint X with or without MOD, you should make sure your device is able to run it as intended. Make sure your Android version is at least Android 4.4+. The location of these download links will change from time to time, just as the APK versions, but we make sure they are safe and free to access. Press the button to download ibis Paint X APK. We also offer the original, untouched files in case you don't want to use mods.