My Talking Tom MOD APK - Unlimited Coins
Updated on April 1, 2022
Take good care of Tom and make sure he has a great time. Feed him, play with him, and bathe Tom daily. Download My Talking Tom MOD APK for free!
| | |
| --- | --- |
| App Name | My Talking Tom |
| Version | 7.0.1.1860 |
| Updated | April 1, 2022 |
| Compatibility | Android 5.0+ |
| File Size | 108.25 MB |
| Category | Casual |
| Publisher | Outfit7 Limited |
| Link | com.outfit7.mytalkingtomfree |
| MOD Type | Unlimited Money |
Introducing My Talking Tom
My Talking Tom is a fun game available for the Android operating system where you have to take care of a cat named Tom. It can't be a review of this mobile game without talking about its success. I'm pretty sure many players already know about this title because it's one of the most popular releases available on the Google Play Store. As you're reading this article, this game sits somewhere between 500 million and one billion downloads. Based on the reviews of almost 17 million people, My Talking Tom has a rating of 4.3 stars out of 5. It's hard to mention it without using the word legendary.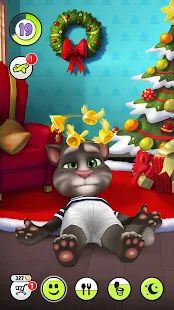 Help Tom grow
Let's cover the player's duties. The gameplay starts with Tom being a little cat, and you will have to take good care of him during his life. As you can expect, Tom must be fed, washed, and even entertained. Each time we take proper care of this cute cat, the game rewards us with coins. Just keep on collecting them because having a cat as a pet is not cheap. Food costs money, so do other supplies.
To figure out Tom's mood and his demands, all you have to do is to check out the icons shown at the screen's lower part. If the cat is hungry, we have to feed it. If Tom needs some sleep, it's our task to put him to bed and make sure he gets some proper rest. Another neat thing about this mobile game is the ability to talk with your pet. Even though he's going to repeat your words, Tom does it with a funny voice. It's pretty hard not to enjoy it and laugh when you hear this cat mumble your words out his pretty mouth.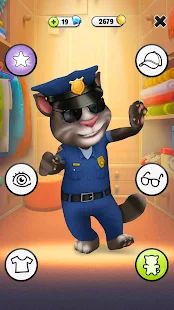 Do not forget to feed him!
A brand new player might ask himself how to feed this cat. Well, go ahead and tap the red spoon and fork icon available inside the interface. After you do this, the scene changes completely, as you and Tom are in the kitchen. Use some of the earnings to buy the food the cat wants. When the respective icon becomes green, it means the pet had enough food and the belly is full. The same system is in use for the other necessities, making it easy to figure out what's wrong and how to fix it.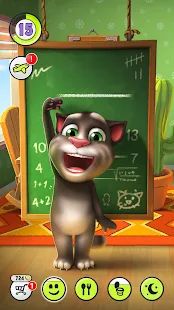 Minigames available
My Talking Tom brings a series of minigames like action games, puzzles, sports, and even adventure games created to test reflexes, skills, and problem-solving abilities. Not only can you entertain your pet this way, but you can also unlock various cool things. Always consider interacting with Tom to keep him healthy and happy. Besides, the gameplay enables players to unlock furniture items and new clothes all the time. Don't forget to take advantage of these items to improve your virtual cat's life and even dress it as a superhero, pilot, or just as a regular being. You can change things about his room and even take Tom on a trip to other countries. There are many other fun aspects of this mobile game, but you'll have to download it and install it on your Android device. After all, so many users find this game fun and enjoyable.
Download My Talking Tom MOD APK for Android
Before you proceed to download My Talking Tom with or without MOD, you should make sure your device is able to run it as intended. Make sure your Android version is at least Android 5.0+. The location of these download links will change from time to time, just as the APK versions, but we make sure they are safe and free to access. Press the button to download My Talking Tom APK. We also offer the original, untouched files in case you don't want to use mods.