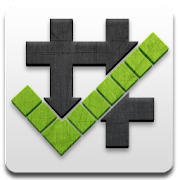 Root Checker APK
Updated on April 11, 2022
Are you in a hurry and you need to figure out if your device gives you superuser access? With this app you can do so! Download Root Checker APK.
| | |
| --- | --- |
| App Name | Root Checker |
| Version | 6.5.0 |
| Updated | April 11, 2022 |
| Compatibility | Android 4.4+ |
| File Size | 10.87 MB |
| Category | Tools |
| Publisher | joeykrim |
| Link | com.joeykrim.rootcheck |
| MOD Type | No MOD available |
Reviewing Root Checker
Root Checker is a lightweight tool capable of detecting if your Android device is rooted or not. It completes this task and quickly as possible with no interruptions. If you sit back and ask yourself how to know if your smartphone is rooted or isn't, this app is the answer. It lets you know if you have superuser access to the Android OS or not. The thing I like the most about this simple tool is its user-friendliness. This aspect led the app to more than 50 million installs through the Google Play Store only. I guess many other users have downloaded this APK from alternative platforms.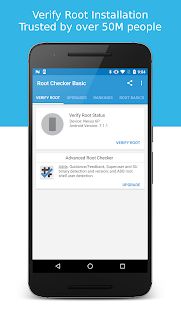 Just follow the buttons on the screen
How easy is it to check if the device is rooted? Let's cover the simple steps you'll have to follow. After the app completes the installation process, you can launch it through the shortcut and work with a basic user interface design. It works by checking if your account has superuser privileges. As a note, you can't use this tool to root or unroot your device because its only feature is to see the status of this access level. The process of checking the root status of your smartphone requires you to tap the Verify button and wait for the results to show on the screen.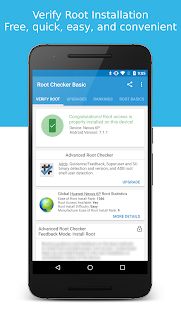 What rooting is all about
As expected, there are not many other features inside the window because we can only check the root status and share it with other people by using email, Facebook, Google Drive, and more. As you probably know, rooting your device means that you gain superuser privileges so you can customize the Android OS on your smartphone in multiple ways. The world has many types of people concerning their technical knowledge. Some are better at working with digital devices, while others aren't. Each time an inexperienced user seeks to install, configure, and gain root access to a mobile device, he might struggle because the process is not that simple.
To know if the rooting process was successful or a failure is using an application like Root Checker. It gives an accurate answer regarding this topic without demanding the user to possess superior technical knowledge. This tool does this task by simply checking if the user can execute commands through the su binary with root access.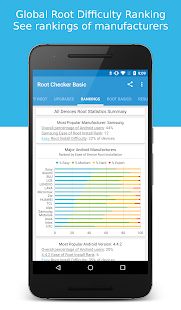 Use this tool to figure out the root status of your device
There are various benefits and also drawbacks to gaining administrator access on Android devices. First of all, with superuser privileges, we can install packages that otherwise wouldn't be accepted by the Android's core due to various reasons. We can also perform additional customizations on the device. The user needs to know what he's exactly doing on a rooted phone because the lack of knowledge can cause problems. For example, make sure the software you plan to install on your device is safe. The last thing you want is to add something that causes security and privacy holes in the Android OS.
Overall, Root Checker is a simple-to-use tool we can use to obtain the root status of our gadgets. Just as I've mentioned above, you can't use this tool to perform the rooting process because you can only check if you have superuser access.
Download Root Checker APK for Android
Before you proceed to download Root Checker with or without MOD, you should make sure your device is able to run it as intended. Make sure your Android version is at least Android 4.4+. The location of these download links will change from time to time, just as the APK versions, but we make sure they are safe and free to access. Press the button to download Root Checker APK. We also offer the original, untouched files in case you don't want to use mods.