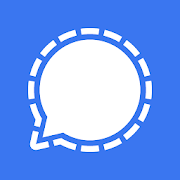 Signal APK
Updated on April 11, 2022
Communicate with your friends and family members without paying money. Send messages, files, and more. Download Signal APK for free!
| | |
| --- | --- |
| App Name | Signal Private Messenger |
| Version | 5.35.0 |
| Updated | April 11, 2022 |
| Compatibility | Android 4.4+ |
| File Size | 49.89 MB |
| Category | Communication |
| Publisher | Signal Foundation |
| Link | org.thoughtcrime.securesms |
| MOD Type | No MOD available |
Review of Signal Private Messenger
As you can probably guess, Signal Private Messenger is an instant messaging application that enables you and other users to keep in touch with family and friends over the Internet. The purpose of apps like this one is to avoid SMS fees and chat for free with other people. Billions of individuals exchange messages every day one way or another. This platform offers the opportunity to communicate with other people without having to pay large sums of money.
Chat with friends and family members
If you're interested in sending and receiving text messages, making voice and audio calls, this app is for you. It presents itself as an alternative to other solutions available on the market through advanced privacy-preserving technology. Thanks to superior security, we can now focus only on sharing heartwarming moments with our loved ones. Concerning popularity, this package has gathered over 50 million installs so far through Google Play. Plus, with a rating of 4.3 out of 5 stars, it's easier to recommend this app to other users.
Friendly UI and cool features
Signal's user interface comes with a modern and intuitive layout, allowing us to use its functions even if we are newbies in the very technical world of smartphones. One of the most important things while having conversations is to know if they are secure or not. Many people share private information every single day they use messaging platforms. Signal uses end-to-end encryption to ensure nobody else besides yourself and your conversation partner can read the messages. This centralized system prevents third parties from accessing and viewing the messages we send to other contacts.
Your conversations are private
Military-grade encryption is a component we see in more and more messaging services present on the market. Plus, even if you operate in a slow network, Signal does its best to deliver messages as quickly as possible. I also like the fact that we don't have to put up with advertisements. We can configure the chat history to remove messages after a user-defined time interval expires. The nice thing is that you can set time intervals for each conversation you have.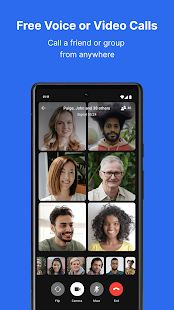 Group chat support, send files, and more
During your chats, you can share videos, documents, music, photos, and more. Another feature available with Signal Private Messenger is the support for group chats. You will be happy to hear that the conversations happening here are also under protection through encryption technologies. Only you and the people belonging to your group chats can see the messages. Another essential feature is the ability to have video and audio calls. In the past years, we've all seen how video interaction between people took off. It wasn't that predominant in the past, but now it's here, and many people enjoy using it.
Do you like sharing photos with friends, coworkers, and family members? How about doing some editing before you send pictures away? With Signal, we can use the built-in image editing features to flip and crop any photo on the device. Also, the text tool allows us to insert words over pictures. In conclusion, this application is the solution we need each time we send messages to others.
Download Signal Private Messenger APK for Android
Before you proceed to download Signal Private Messenger with or without MOD, you should make sure your device is able to run it as intended. Make sure your Android version is at least Android 4.4+. The location of these download links will change from time to time, just as the APK versions, but we make sure they are safe and free to access. Press the button to download Signal Private Messenger APK. We also offer the original, untouched files in case you don't want to use mods.