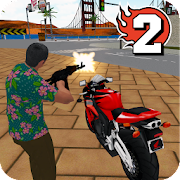 Vegas Crime Simulator 2 MOD APK - Unlimited Money
Updated on October 31, 2022
Continue your journey as a gangster in a city you rule. Battle and defeat any faction standing in the way. Download Vegas Crime Simulator 2 MOD APK.
| | |
| --- | --- |
| App Name | Vegas Crime Simulator 2 |
| Version | 2.8.6 |
| Updated | October 31, 2022 |
| Compatibility | Android 4.4+ |
| File Size | 103.72 MB |
| Category | Action |
| Publisher | Naxeex Ltd |
| Link | com.vegas.crime.sim.two |
| MOD Type | Unlimited Money |
About Vegas Crime Simulator 2
Vegas Crime Simulator 2 is the second release in the game series focused on all sorts of gangster activities you can perform through your mobile device. As you probably know from the original installment, it takes plenty of time and works to establish a name for yourself amongst the streets. The mafia life is not easy because there are many challenges we need to face and overcome. With more than 10 million installs and a rating of 4 out of 5 stars, this version is something you should download if you love fighting the police and other gangs for supremacy.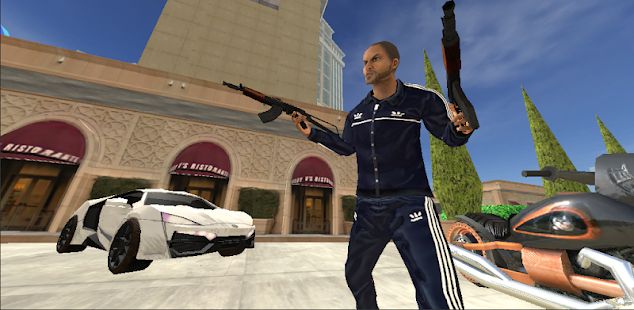 Take over the streets
When it comes to the storyline, we get to continue the action from the end of the previous game release. Our underground crime empire is strong, but this aspect does not keep us safe from those who want to take over the crime business and have it for themselves. Since new mafia factions show up often in the city we rule, it's a matter of time before we have to declare war on any group that wants to challenge our supremacy. After all, you can't stay on top if you're not willing to do what it takes to be there.
Plenty of challenges and levels to complete
The gameplay requires us to complete all sorts of missions and quests to maintain our influence in the city. To better prioritize our actions in Vegas Crime Simulator 2, always check out the minimap to see essential tasks we need to pass right away. If a mission has an icon on the minimap, it shows how crucial it is. This campaign takes us through many challenges, including gunfights, car chases, robberies, assassinations, clashes against corrupt authorities, and more.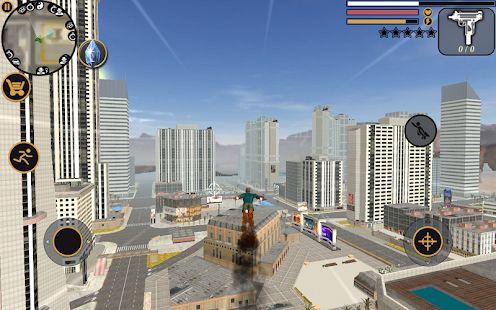 Plus, you can launch an attack on hard-to conquer zones like a military base so you can steal weapons and use them in your plans. The ability to join various crime clans allows us to expand our influence as we gain rulership over new territories. However, if you see a faction that wants to challenge your domination, the best way to disband that group is by joining it. Destroy your enemies from within.
Many things to do
Vegas Crime Simulator 2 brings many activities to perform for skill enhancement, such as car theft, taxi driving, Lasso, and Naxeex. Steal various car models to earn rewards and drive a taxi car for many minutes straight to obtain something. You can also collect all the superhero figures for a reward in return. Even though we can use regular weapons like pistols, rifles, and shotguns to kill enemies, we can take things up a notch by enabling superpowers for our character.
Enhance your hero!
Use the store section to purchase the superkick ability and defeat opponents easier, plus the super landing skill to land in a mob of bandits with a powerful explosion. Besides being a badass and doing your regular crime activities, don't forget to make the hero look stylish. Dress up the protagonist in cool outfits during each situation. Considering the large size of the map, the best way to travel across the city is by vehicle. Collect cars for your garage and use them to carry out your mafia plans inside the Vegas Crime Simulator 2 mobile game.
Download Vegas Crime Simulator 2 MOD APK for Android
Before you proceed to download Vegas Crime Simulator 2 with or without MOD, you should make sure your device is able to run it as intended. Make sure your Android version is at least Android 4.4+. The location of these download links will change from time to time, just as the APK versions, but we make sure they are safe and free to access. Press the button to download Vegas Crime Simulator 2 APK. We also offer the original, untouched files in case you don't want to use mods.