Viber APK
Updated on April 1, 2022
Send free text messages and make phone calls to your friends and family members with this application. Top security and privacy! Download Viber APK.
| | |
| --- | --- |
| App Name | Viber |
| Version | 17.3.0.4 |
| Updated | April 1, 2022 |
| Compatibility | Android 5.0+ |
| File Size | 168.45 MB |
| Category | Communication |
| Publisher | Viber Media S.à r.l. |
| Link | com.viber.voip |
| MOD Type | No MOD available |
Introducing Viber
Viber is a free Android application that lets users maintain contact with family and friends by sending text messages and making phone calls. This service is similar to Skype because it takes advantage of VOIP technology to deliver its features over the Internet. In simple terms, the voice calls are free, in case you have an internet connection active. Wi-Fi, 3G, 4G, 5G doesn't matter as long as the connection speed is decent and stable. Save money by using this app to make calls and send text messages.
At the moment, this package has gathered over half-billion installs since its launch day on Google Play. Concerning rating and user feedback, out of 15 million reviews posted by people, this service averages a rating of 4.4 out of 5 stars. As everybody can see, many users are happy with the features available inside the interface. If you want to stay in touch with your loved ones for free, give this app a try! Download the APK package and install it on your smartphone.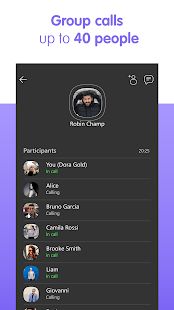 Create chats for many users
In terms of UI design, once you install this app and launch it, you will notice a modern and clean layout. The messaging system allows you to send text, files, GIF images, and stickers. We can create high-quality video and audio calls to our friends by following a couple of steps. Plus, Viber supports group video chats but within a limit of 20 participants. This feature uses either Wi-Fi or traffic from the data plan on the phone.
Users can create communities that are nothing but group chats with an unlimited number of participants. Take advantage of admin controls to manage everything concerning the community. If someone steps out of the line, it's easy to kick him out of the group chat. Since we are talking about chatting as a group, the app also has a separate component that does exactly that. However, a group chat only supports up to 250 members, making it a perfect solution for those looking to talk about work, sports, movies, jokes, etc. Spice things up by creating polls, quizzes, react to conversations with likes, emojis, etc.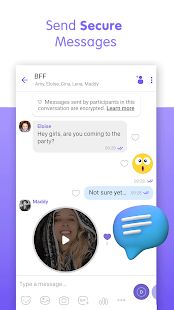 Quality encryption
Having chats over the Internet might put your privacy at the test, but Viber protects you by using end-to-end encryption. These encryption keys are present on the devices involved during a conversation, and nobody else can decode the data. Sometimes you might say something that is not that important, and this service allows you to remove seen messages. Use the self-destruction function to set an expiration date for a message. For example, we can configure how long the recipient has to read your message before it expires.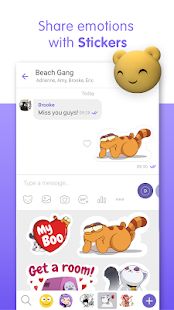 Cross-platform
You can extend the capabilities of this application by using chat extensions to find and share videos, music, and more. Another neat feature of Viber is the synchronization module. Manage your account from other supported platforms because your information is available there no matter what. Start a conversation from your smartphone while on the road and then continue it from the desktop at home.
Download Viber APK for Android
Before you proceed to download Viber with or without MOD, you should make sure your device is able to run it as intended. Make sure your Android version is at least Android 5.0+. The location of these download links will change from time to time, just as the APK versions, but we make sure they are safe and free to access. Press the button to download Viber APK. We also offer the original, untouched files in case you don't want to use mods.