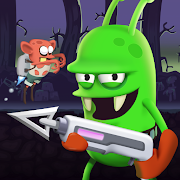 Zombie Catchers MOD APK - Unlimited Money
Updated on April 11, 2022
Let the zombie-slaying begin! Hunt, catch, and turn zombies into delicious snacks for your food business empire. Download Zombie Catchers MOD APK.
| | |
| --- | --- |
| App Name | Zombie Catchers |
| Version | 1.30.24 |
| Updated | April 11, 2022 |
| Compatibility | Android 4.4+ |
| File Size | 72.38 MB |
| Category | Action |
| Publisher | Deca Games |
| Link | fi.twomenandadog.zombiecatchers |
| MOD Type | Unlimited Money |
Review of Zombie Catchers
Zombie Catchers is an action game where you are required to capture zombies directly on your Android device. Besides great gameplay, a successful release must also have a proper storyline. Everything starts with a deadly virus that turns the people of Earth into walking deads. Somehow, their bodies have no consciousness whatsoever, but the motor skills and basic survival instincts still function. This aspect is a recipe for a conflict between healthy humans and the undead.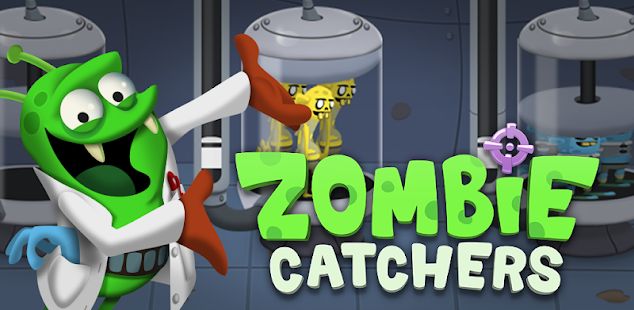 Capture zombies and turn them into products
A zombie's only instinct and drive is to spread the plague by catching and eating the rest of the world. Like you can see in every apocalyptic movie, zombies are afraid of nothing. Even though they throw themselves into each situation to attack healthy people, these monsters found their match. Two intergalactic businessmen, A.J. and Bud, have decided to help this troubled world as long as they can make some money out of the entire problem.
The plan is simple and straightforward: catch all the zombies and make money while this process goes on. The gameplay gives you control over Bud, and your role is to complete multiple missions where you have to capture specific numbers of zombies. To fulfill this challenging assignment, you can take advantage of a trusty harpoon gun and sneaky traps to catch the hungry monsters. Not all zombies are dumb though, some of them are smart enough to hide behind objects, making your life a bit harder.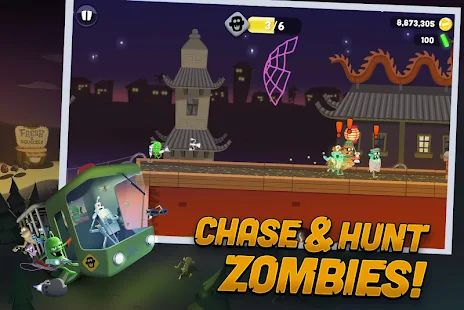 Apply clever tactics to achieve your purpose
The best practice is to lure them out by using irresistible bait. Once they fell into your trap, you can capture these zombies and turn them into drinks. Yes, you read that right! A.J. and Bud plan to make money from this entire situation by turning each undead into candies, shakes, and tasty snacks, which they sell to hungry customers in a drive-through cafe.
Buy weapons and more
Not only do you get to build a prosperous food business with those earnings, but you can also use them to unlock brand new hunting gadgets like guns, nets, weapons, jetpacks, to help you in your quest. You can even have groups of drones that you can release all over the world to catch zombies. The in-game currency is known as Plutonium. Avoid making the mistake of spending it on horrible items because it is pretty hard to earn. Besides completing regular zombie-catching challenges, the game also contains daily missions. Ignoring them is not a good thing to do because they bring the chance to win some fancy rewards.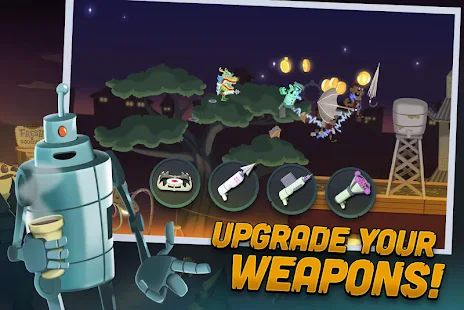 Simple but cool mobile graphics
When it comes to visuals, I like the graphics. The 2D world brings cartoonish designs, funny-looking monsters, hilarious effects, and cool sounds. Another great feature of Zombie Catches is the ability to enjoy the entire action without an active Internet connection. As long as you have it on your device, you can play it without problems.
Download Zombie Catchers MOD APK for Android
Before you proceed to download Zombie Catchers with or without MOD, you should make sure your device is able to run it as intended. Make sure your Android version is at least Android 4.4+. The location of these download links will change from time to time, just as the APK versions, but we make sure they are safe and free to access. Press the button to download Zombie Catchers APK. We also offer the original, untouched files in case you don't want to use mods.