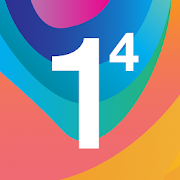 1.1.1.1 MOD APK - WARP+
Updated on March 18, 2022
Cloudflare brings us a fast and secure DNS resolver for the mobile platform. Boost your Internet connection with a tap. Download 1.1.1.1 MOD APK.
| | |
| --- | --- |
| App Name | 1.1.1.1 |
| Version | 6.13 |
| Updated | March 18, 2022 |
| Compatibility | Android 5.0+ |
| File Size | 17.46 MB |
| Category | Tools |
| Publisher | Cloudflare, Inc. |
| Link | com.cloudflare.onedotonedotonedotone |
| MOD Type | WARP+ |
What is 1.1.1.1?
1.1.1.1 is a lightweight tool released by Cloudflare, doing the simple task of making your device use their new DNS (Domain Name System) servers to boost the connection. The one thing we all know about the Internet is that many companies want to know what users visit every single time. Corporations use that information to develop various products and technologies to make more money. However, no one should be able to track your behavior on the web. Take advantage of this small application to connect to the Internet securely regardless of your location and time.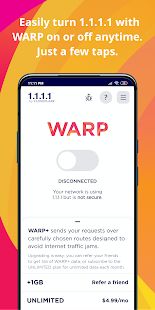 Take privacy serious!
To prove people are concerned about their privacy more and more, let me mention some of the stats present on the Play Store for this app. Since its launch day, this package has collected somewhere between 50 and 100 million installs. Since the whole APK is only about 20MB, it's a no-brainer to download it and test if it works or not. With a simple tap on the screen, we can enhance the web surfing experience.
Tap to go
The only thing you have to do is to install the application and launch it. Its user interface comes with a very minimalistic and direct layout which displays a button for turning ON and OFF the connection to this DNS server. When enabled, all DNS queries coming from your smartphone go through a process of protection via encryption. The main task of a DNS server is to link domain names to IP addresses. The quicker this task is achieved, the faster you can browse websites on the Internet.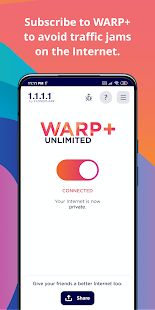 For example, let's say we want to visit youtube.com. When we initiate the connection to the website, the request goes to a DNS server to obtain the exact IP address to reach YouTube without a problem, and the then page loads on our devices. Cloudflare claims that 1.1.1.1 is about 28% faster than the next fastest public resolver. The encryption takes place to stop Internet Service Providers from gathering this private data and selling it to third parties.
The popular opinion is that this application is user-friendly because it runs without issues on many devices existent out there, thanks to its lightweight design. If you want to pause the connection for a while, you can do so with just one tap. Plus, the app provides a feature called DNS-only mode that we can take advantage of to disable the DNS connection for various tasks. It's pretty simple to configure, even if you're a new user with no technical knowledge.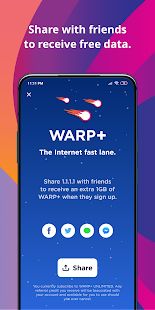 VPN abilities
1.1.1.1 w/ WARP is a must for those looking to browse the World Wide Web privately. By hiding the DNS requests made by the smartphone, this service manages to protect private and confidential information from prying eyes. Even if this software uses VPN technology, it doesn't work as a traditional VPN solution. Keep in mind: you can't use this app's features plus a fullfledged VPN service at the same time because it will cause conflicts. Overall, 1.1.1.1 provides the essential functionalities we all need to enhance our Internet connection and privacy.
Download 1.1.1.1 MOD APK for Android
Before you proceed to download 1.1.1.1 with or without MOD, you should make sure your device is able to run it as intended. Make sure your Android version is at least Android 5.0+. The location of these download links will change from time to time, just as the APK versions, but we make sure they are safe and free to access. Press the button to download 1.1.1.1 APK. We also offer the original, untouched files in case you don't want to use mods.