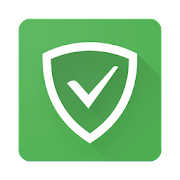 Adguard MOD APK - Premium Unlocked
Updated on March 18, 2022
Get rid of annoying advertisements while surfing the Internet on Yandex Browser and Samsung Internet browser. Download Adguard MOD APK for free!
| | |
| --- | --- |
| App Name | Adguard |
| Version | 4.0.73 |
| Updated | March 18, 2022 |
| Compatibility | Android 5.0+ |
| File Size | 31.11 MB |
| Category | Tools |
| Publisher | ADGUARD SOFTWARE LIMITED |
| Link | com.adguard.android.contentblocker |
| MOD Type | Premium Unlocked |
Introducing Adguard
Adguard Content Blocker is a free Android tool people can use to block all advertisements on web browsers like Samsung Internet Browser and Yandex Browser. A very positive aspect is that it manages to achieve this process without requiring you to root your tablet or smartphone. There are many reasons for us to block ads while surfing the Web. First of all, annoying advertisements like banners, popups, and so on can be pretty distracting. Not only do they force their presence on the screens of our devices, but they also consume battery and mobile data traffic.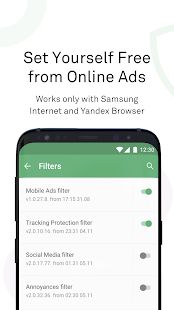 Millions and millions of installs
The more media-heavy an ad is, the more data and resources it requires to show up on the screen. Thanks to Adguard and its components, we can enjoy a longer battery life, and we will no longer have to leave the house with a charger after us. According to the Google Play Store, this package has collected between 5 to 10 million installs since its launch day. To figure out if an app is worthwhile, invest some time reading the opinions posted by actual users. Concerning the app in the discussion, it averages a rating of 4.3 out of 5 stars.
Use the friendly UI to use the app's functions
As soon as we install and launch the app, we can notice the simple and intuitive layout where we can pick from more than 20 language-specific and general filtering rules lists available at our fingertips. Highly skilled specialists and capable community members are behind this list to achieve the best results possible. The recommended practice is to activate the general lists that cover the most popular and common ads and then combine them with language-specific filters to cover ads in your specific country.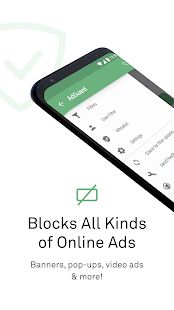 By stopping ads from showing up inside these two web browsers, you can experience a faster load speed of websites, plus lower usage of your mobile data. Plus, we can enjoy a safer Internet because we no longer have to deal with phishing attempts, intrusive popups, sketchy websites, spam, and more. However, each user needs to know that Adguard is not perfect. Even if this tool is good at what it does, it's almost impossible to be effective against every type of ad. Consider the app to be like a virtual sidekick to you, the user. Always be mindful of the websites you visit.
Allow specific webpages to display advertisements
Just like the rest of us, I'm sure you have a collection of websites you enjoy a lot. Since not all pages display dangerous ads, you can configure the Whitelist section to prevent Adguard from blocking advertisements on trustworthy websites. For example, you can adjust the app to accept ads from entire domains or specific pages.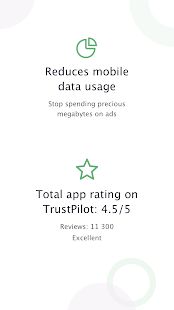 Another notable aspect of this tool is its ability to block various ads without requiring too many CPU and RAM resources, thanks to a lightweight build. In the end, if you're bothered by advertisements while surfing all kinds of web pages, you can use Adguard Content Blocker to prevent them from showing up. Adguard Content Blocker helps you improve your security, privacy, data consumption, and battery life while visiting pages on the Internet.
Download Adguard MOD APK for Android
Before you proceed to download Adguard with or without MOD, you should make sure your device is able to run it as intended. Make sure your Android version is at least Android 5.0+. The location of these download links will change from time to time, just as the APK versions, but we make sure they are safe and free to access. Press the button to download Adguard APK. We also offer the original, untouched files in case you don't want to use mods.