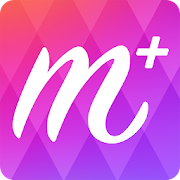 MakeupPlus APK
Updated on April 11, 2022
The perfect camera app for adding makeup and beautifying your selfies! Augmented Reality feature available for free! Download MakeupPlus APK.
| | |
| --- | --- |
| App Name | MakeupPlus |
| Version | 6.0.65 |
| Updated | April 11, 2022 |
| Compatibility | Android 5.0+ |
| File Size | 84.06 MB |
| Category | Photography |
| Publisher | MeituEve International Limited |
| Link | com.meitu.makeup |
| MOD Type | No MOD available |
About MakeupPlus
MakeupPlus is a free application that does the job of applying virtual makeup to your photos, assisting you in the process of making your selfies look better overall. Take advantage of this virtual personal makeup artist to make selfies look gorgeous by following a couple of steps. To build a better product, the development team behind this software decided to work with professional people from the makeup world, including photographers and top makeup artists. Please take advantage of its front-facing feature to see how your face's appearance changes when you apply different makeup filters on top of it.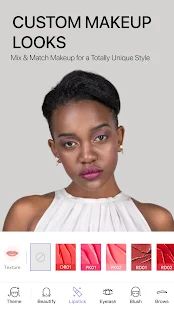 Easy-to-use Graphical User Interface
With more than 50 million installs so far through Google Play, this application is a tool all selfie lovers should have installed on their Android smartphones and tablets. We all live in a world where skin imperfections are pretty common amongst various cultures. When it comes to the user interface, this app comes with a straightforward layout, allowing us to get exclusive makeup looks designed by professionals.
It incorporates facial tracking technology, and thanks to it, you can see how makeup changes you in real-time. This feature is a must because it saves users plenty of time. You can even change the color of your eyes by using the included contact lenses. Moreover, the beautification functions allow you to change your facial features and adjust your nose, face, chin, and eyes. Using this app, you are allowed to capture multiple photos using the included selfie timer. Capture selfies and apply various retouching tools and effects to obtain many looks. Select the best one to share with everybody else.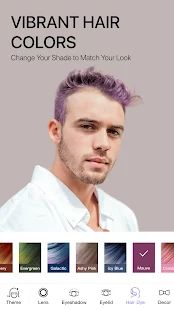 Make beautiful selfies
At the moment, MakeupPlus lets you snap photos inside the user interface or load existing ones through the photo gallery. If you're not good with the virtual makeup routine, you can try the included looks and apply them to your selfie. Are you unhappy with the way your eyes look? If the answer to that question is yes, check out the component that allows you to enhance the color of the eyes by applying colorful contact lenses.
Test drive products from well-known and respected brands such as GLAMGLOW, Dior, Charlotte Tilbury, Clarins, Stila, NARS, and more with just a few taps on the screen. Plus, if we see discover a great product, it can be ours with a tap of a button! Buy items that work, apply them to the skin, and improve your looks. Many other features are available for those looking to download the application. Once the whole editing process is over, you can save the selfie and share it with other people on social media platforms like Twitter, Instagram, Facebook.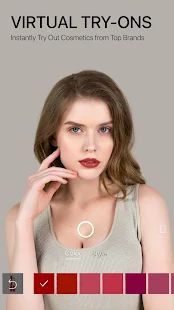 Requirements
Concerning permissions, this software requires access to the camera to capture photos and videos, the storage structure to allow users to load existent pictures, and more. The majority of MakeupPlus' features are compatible with many of the devices present on the market. However, to take advantage of the AR, short for Augmented Reality, function, the phone or tablet must have at least 1GB of storage space, plus a minimum screen resolution of 480 x 854. If the user's mobile device doesn't meet these requirements, he or she can't use the AR camera.
Download MakeupPlus APK for Android
Before you proceed to download MakeupPlus with or without MOD, you should make sure your device is able to run it as intended. Make sure your Android version is at least Android 5.0+. The location of these download links will change from time to time, just as the APK versions, but we make sure they are safe and free to access. Press the button to download MakeupPlus APK. We also offer the original, untouched files in case you don't want to use mods.