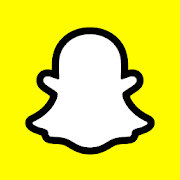 Snapchat MOD APK - Premium Unlocked
Updated on March 23, 2022
Create a profile, chat with family and friends, send photos, videos, and more. Check out various content and have fun! Download Snapchat MOD APK.
| | |
| --- | --- |
| App Name | Snapchat |
| Version | 11.72.0.23 Beta |
| Updated | March 23, 2022 |
| Compatibility | Android 4.4+ |
| File Size | 83.30 MB + 61.39 MB (OBB) |
| Category | Communication |
| Publisher | Snap Inc |
| Link | com.snapchat.android |
| MOD Type | No MOD available |
About Snapchat
Snapchat is an application that helps its users to keep in touch with friends and family through its messaging platform. Using this app's features, we can make our lives easier each time we take photos and record videos to share them with our people. Since this service saw the light of day in 2011, more and more individuals started using its functionalities. At the moment, this app has over 1 billion installs, according to the Google Play Store. Concerning feedback, more than 25 million people have rated this software as 4.1 out of 5 stars.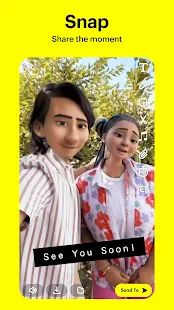 Why so popular?
The primary function that made this platform so beloved is sharing videos and photos with other users. Send and receive pictures and short clips in a matter of seconds. The GUI rocks a clean and intuitive layout. If you swipe right from the Camera section, you will end up inside the Friends area. This section contains chats, snaps, stories, all linked to your friends. The user is capable of managing his accounts by accessing the Profile screen. Here you can perform tasks such as adding friends, changing settings, and manage stories.
We can identify and read profile notifications because the app lets us know when we have new alerts by displaying a yellow dot on the Profile icon. The next question is: what's categorized as a notification? First of all, each time someone sends us a friend request, we get an alert to accept or deny it.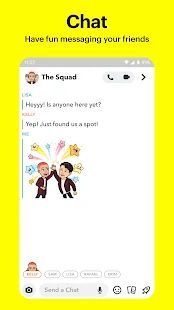 Watch other people's content
Another important feature of Snapchat is the content-driven area called Discover. Inside this section, you will find content such as shows, snaps, stories from people you follow, and so on. If you enjoy any of the content shown inside the area, you can subscribe to it and later receive notifications when something new shows up in this section. Consume content while it's fresh. The best method, by far, to find memories, stories, friends, content is by using the Search component. Type a word inside the search bar to discover the next big thing.
Edit photos and videos
By downloading and installing this application on our devices, we gain access to a collection of photo editing features. Don't get me wrong. I'm not saying that we can compare them to what we see in Photoshop, but they're decent for basic picture manipulation. After you capture a photo or record a video, apply various filters, effects, and 3D Bitmoji to enhance the overall quality before sharing them with others.
If you've never heard about the idea of Bitmoji, allow me to explain. 3D Bitmojis are three-dimensional avatars that you can customize to copy your appearance. For example, you can adjust the hairstyle, skin complexion, hair color, eyes, etc. Plus, these small avatars also mimic your gestures and movements. Use this cartoon version of yourself to talk to the camera and have a laugh.
Snapchat supports video chats up to 16 friends at once. Always stay in touch with your favorite people through its messaging features because they're free as long as you have an Internet connection. Apply Lenses and Filters during video chats to engage with your pals.
Download Snapchat APK for Android
Before you proceed to download Snapchat with or without MOD, you should make sure your device is able to run it as intended. Make sure your Android version is at least Android 4.4+. The location of these download links will change from time to time, just as the APK versions, but we make sure they are safe and free to access. Press the button to download Snapchat APK. We also offer the original, untouched files in case you don't want to use mods.