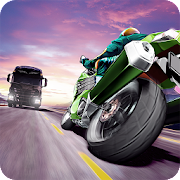 Traffic Rider MOD APK - Unlimited Money, Bikes
Updated on March 24, 2022
Live the life of a bike rider straight on your smartphone or tablet. There are 29 motorbikes to choose from. Download Traffic Rider MOD APK.
| | |
| --- | --- |
| App Name | Traffic Rider |
| Version | 1.81 |
| Updated | March 24, 2022 |
| Compatibility | Android 5.0+ |
| File Size | 110.93 MB |
| Category | Racing |
| Publisher | Soner Kara |
| Link | com.skgames.trafficrider |
| MOD Type | Unlimited Money |
Review of Traffic Rider
Traffic Rider is a driving game where you can enjoy being behind the wheels of a motorbike straight on your Android device. Besides cars, the racing genre also has titles like this one focused on motorcycles. Don't mistake thinking smartphone users won't look at bike games. If you don't trust me, you need to know this release has more than 100 million downloads and installs through Google Play so far. Any player that loves driving fast on the road should check this out.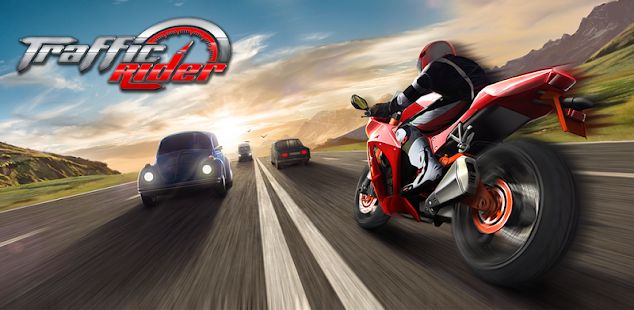 Develop your skills by playing
Remember one thing: motorbikes require more attention than cars because you can find yourself on the ground pretty quickly. This rule applies here as well. The first bike available when the game starts has a limitation in terms of speed. I like this feature, and I think it's pretty useful because you have the necessary time to learn how to handle the bike in this virtual environment. While on the highway, the task is to drive as fast as possible but without crashing. Each time you manage to avoid a vehicle, the game delivers a reward.
The more you ride on the edge, the more you will gain. It takes time to collect enough money to purchase a new motorcycle. The best practice is to drive faster than 100km/h and avoid the ongoing traffic as close as possible. Plus, you can boost the money by riding on the wrong lane and popping wheelies. If you manage to do so without crashing, you can earn plenty of bonuses and use those earnings to purchase a brand new bike. When you want to slow down the bike, all you have to do is releasing the acceleration and pressing the brake button.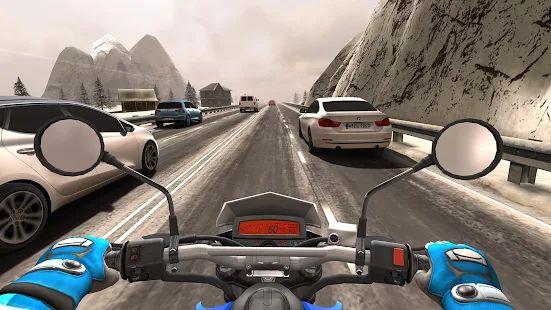 Many bike models to pick from
It provides 29 different motorcycles from well-known manufactures like Harley-Davidson, BMW, Suzuki, Kawasaki, Yamaha, and Indian, and who knows, you might find your dream bike inside this game. Inside this window, you will find a career mode and multiple improvements done to its graphics engine. The nice thing is that the sounds come from real bikes. The gameplay takes you onto highway roads, where you get to drive your bike in a first-person view.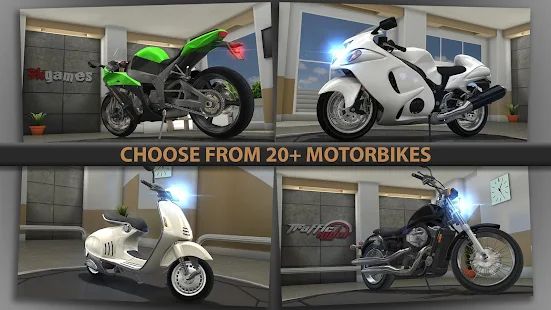 Fun graphics to look at
Concerning the visuals, not only the 3D environment is detailed, but Traffic Rider also makes things better by incorporating day and night variations. Above it was mentioned the new career mode. Here you will have to go through more than 70 missions to beat the game. When it comes to translation, this mobile game is available in 19 languages. Besides, this mobile game comes with more than 30 achievements and Online leaderboards if you want to brag about your riding skills.
Just as you can read above, the controls are straightforward. You can increase the speed by keeping the finger pressed on the acceleration button, and you can move the bike left or right by tapping the arrows accordingly. Moreover, the game lets you use the tilting motion of your device to steer the bike.
Download Traffic Rider MOD APK for Android
Before you proceed to download Traffic Rider with or without MOD, you should make sure your device is able to run it as intended. Make sure your Android version is at least Android 5.0+. The location of these download links will change from time to time, just as the APK versions, but we make sure they are safe and free to access. Press the button to download Traffic Rider APK. We also offer the original, untouched files in case you don't want to use mods.