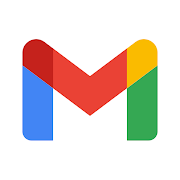 Gmail APK
Updated on April 10, 2022
Manage multiple electronic mail accounts with this app. It supports Gmail, Yahoo Mail, Outlook, and more. Fast and secure! Download Gmail APK.
| | |
| --- | --- |
| App Name | Gmail |
| Version | 2022.01.09.425993077.Release |
| Updated | April 10, 2022 |
| Compatibility | Android 6.0+ |
| File Size | 94.63 MB |
| Category | Communication |
| Publisher | Google LLC |
| Link | com.google.android.gm |
| MOD Type | No MOD available |
Review of Gmail
Gmail is the official Android application developed by Google for its electronic mail platform. Use this software to check out and write mails directly from your smartphone or tablet. Not only it saves time, but it also keeps conversations private and safe. This package is part of Google's core app suite that users find on their mobile devices installed by default. At the moment, this app has over 5 billion installs, according to numbers available on the Play Store platform.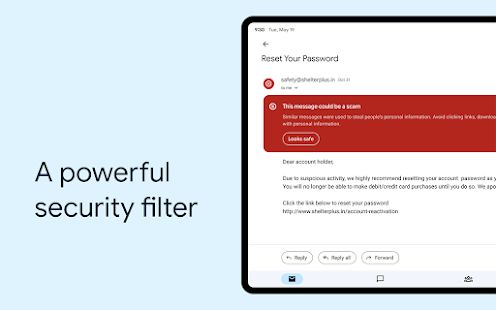 Familiar look
First of all, the user interface gives us access to most of the options we find in the web version of this mailing service. It's time to take advantage of its intuitive layout to manage multiple accounts in a safe environment. The first step after you launch the application is to add your account by providing the correct credentials. Since it supports multiple accounts in the same place, please type the information required to establish the connection with your inboxes.
Once we add at least one account, we can send and receive messages as long as the device has an active Internet connection. Although the platform provides 15GB of free storage, making it a healthy recommendation for many users, some run out of space. When this happens, the user can either start to remove big and no longer relevant messages or pay for more space.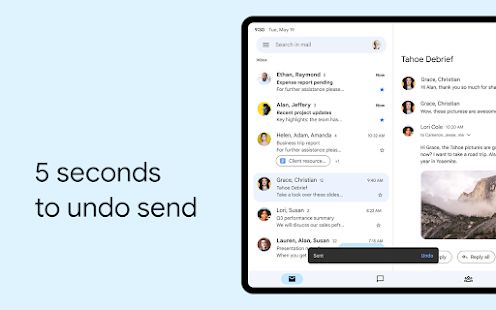 Storage fact
Please keep in mind: the storage applies to Google Drive, Gmail, and Google Photos. For example, if you already use 10GB in Drive, only 5GB are left for Gmail and Photos. It comes with filters that block spam messages, and it will keep your account safe from hackers and other types of threats. You can configure the app to shrink conversations to fit the screen, ask for confirmations when performing actions like delete, archive, and send.
Take advantage of the built-in search function located at the top of the screen to look through your entire inbox. If our accounts are large, the last thing we want to do is to look for something manually. Follow recommended actions like grammar suggestions, nudges, Smart Compose, and Smart Reply to complete simple and repetitive tasks faster. Efficiency is crucial at work and home.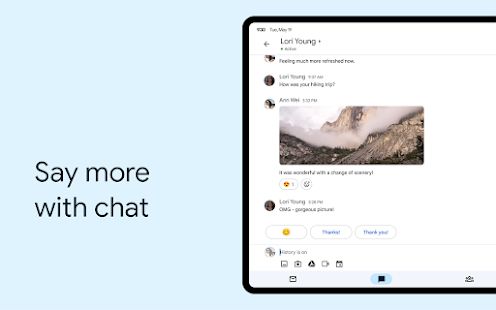 Works with other providers as well
Another cool thing about the Gmail app is the ability to add and manage addresses from other providers, such as Outlook, Yahoo Mail, and so on. You can use any service that provides IMAP/POP electronic mail inboxes. Configure the app with the correct address, username, password, server, ports, etc. Everything should work as intended as long as the user types the required information.
Everything is well organized inside this e-mail client, allowing you to manage your accounts regardless of their origin. Safety is a big concern when it comes to mail clients and profiles. This software implements machine learning models to block and prevent over 99% of spam, malware, and other threats from reaching users. Deleting unnecessary messages like spam also saves storage space.
Download Gmail APK for Android
Before you proceed to download Gmail with or without MOD, you should make sure your device is able to run it as intended. Make sure your Android version is at least Android 6.0+. The location of these download links will change from time to time, just as the APK versions, but we make sure they are safe and free to access. Press the button to download Gmail APK. We also offer the original, untouched files in case you don't want to use mods.