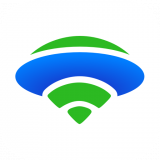 UFO VPN APK
Updated on April 11, 2022
Browse the Internet and its multiple websites in an anonymous fashion! Servers located in many locations for great speeds. Download UFO VPN APK.
| | |
| --- | --- |
| App Name | UFO VPN |
| Version | 3.5.0 |
| Updated | April 11, 2022 |
| Compatibility | Android 5.0+ |
| File Size | 14.23 MB |
| Category | Tools |
| Publisher | DreamFii(Mobile VPN & Clean) |
| Link | - |
| MOD Type | No MOD available |
Introducing UFO VPN
UFO VPN is software developed for people interested in protecting their privacy while browsing the Internet. We can also use this app for bypassing geo-restrictions placed on content. I'm pretty sure you've run into this problem already. You want to enjoy a piece of media or text, but it's not available in your region. What other option is there when this happens? I'm telling you, this tool can circumvent all sorts of location-based restrictions.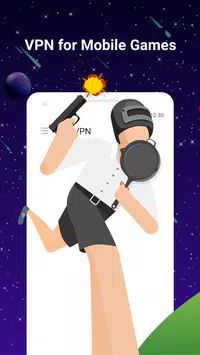 Stay safe on the Internet
Many people love to use free Wi-Fi hotspots because they save mobile data on their phone plans. However, a hefty portion of these users does not know that the traffic they generate is subject to interception. Computer hackers and other third parties can get ahold of personal data and use it for their nefarious plans. Although VPNs do not offer complete protection, they prevent many attacks. So remember, each time you want to use the public wireless spot from a shopping mall, airport, always turn on the VPN connection to stay safe as possible.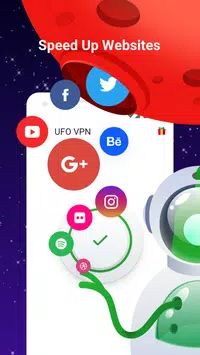 Simple connection process
Since this application comes with a minimalistic interface, all we have to do to create a secure connection is to tap the big button displayed in the middle of the screen. The app detects which server is best for you, but you can also configure the VPN client to use another server located in another country if you need to. This service has servers distributed in multiple countries, such as Israel, Brazil, UK, India, the USA, Australia, South Korea, and more. All the traffic generated using the secured tunnel is protected with encryption. By using this technology, this application can protect your real identity and information.
As I already said, if you like using free Wi-Fi hotspots, then you should have a solution like this one installed on your device to protect your traffic. It offers peace of mind. When it comes to speed, the protocol used for transferring data packets plays a notable role. By now, many Internet users already know about HTTP and HTTPS. UFO VPN slices the information into small blocks to ensure these packets of data travel from one location to the next unhindered and as fast as possible.
Hide your real IP address
Have you ever thought about visiting websites with a fake IP address on your side? This tool does that because that's how it works. Each time we connect to a VPN server, we gain that IP, and now we can surf the web under its mask. Plus, UFO VPN also clears activity logs and browsing history to keep things private. Another use for this application is to obtain a better ping inside mobile games. If you're currently experiencing horrible latency in your favorite game, this app might turn things around a bit. Overall, UFO VPN is an easy-to-use service. Bypass internet censorship, circumvent geo-restrictions, keep your traffic secure, and game better.
Download UFO VPN APK for Android
Before you proceed to download UFO VPN with or without MOD, you should make sure your device is able to run it as intended. Make sure your Android version is at least Android 5.0+. The location of these download links will change from time to time, just as the APK versions, but we make sure they are safe and free to access. Press the button to download UFO VPN APK. We also offer the original, untouched files in case you don't want to use mods.